Bullyproof Your Child
for Life
Testimonials
"Your book gives us hope… thank you with all our hearts for the work you are doing."
- Rosemarie R.
Parent
"Thanks for writing such a wonderful and terrific book. I'm often asked about bullying and how it can be stopped. Until now, I've never really known what to say. Thanks so much!"
- Carol H.
Tutor
"We've chosen your book for our spring book discussion. It's an incredible book!"
- Stacey M.
Parent
Bullying & Resiliece Books by Dr. Joel Haber
BRAND NEW BOOK BY DR JOEL HABER

The Resilience Formula
Proactive, Not Reactive Parenting!
by Joel Haber. Ph. D . & Donna M. Volpitta, Ed.D.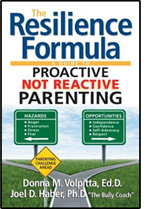 The Resilience Formula is a plan for proactive parenting- parenting that actively considers how to teach resilience to children through everyday challenges. Many parenting books tell us what makes a good parent. It is not easy, however, to find information about how to be that type of parent, particularly when strong emotions come into play.
In this book, we provide: 1- A FRAMEWORK for handling challenges, big and small; 2- LESSONS about how to script language to make your child more independent; and 3- A PLAN to help you transform challenges into opportunities to teach resilience.
DR. HABER'S FIRST BOOK

Bully Proof Your Child For Life
Protect Your Child from Teasing, Taunting, & Bullying For Good!
by Joel Haber. Ph. Dr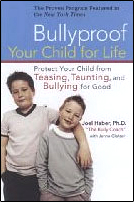 The nationally-renowned "Bully Coach" has published the first book of its kind to help parents and educators deal with the ever growing problem of bullying among kids.

Bullying isn't just happening in the playground— it happens in camps, sports and on the internet, It's happening among boys and girls. Instant messaging, online communities, and cell phones have all created new outlets for childhood aggressors and it's growing like wildfire. How can you stay on top of bullying and prevent it? You need a true anti-bullying expert. That's Dr. Joel Haber.

Dr. Haber's "straight talk" includes:
Learn how to role play bully proofing strategies with your child
Teach your children how to say the "right" phrases when confronted by a bully
What not to say to your child
How to build resilience with your child
What you as a parent–might be doing to encourage bullying
Ways to identify and stop bullying
Dealing with bullying in school, camps, sports, and the Web
How to tell and what to do if your child is a bully, a victim, or a bystander.
Contents:
Bullying Isn't Just a Playground Problem
The Bully Proofing Prescription
How Parents Can Break the Bullying Cycle
Bullying in School
Bullying in Sports
Bullying at Camp
Bullying in the Cyberworld
Special Needs and Disability Harassment