More Anti-Bullying Programs
Parents Resources
Testimonial
The deleterious effects of bullying/teasing have been witnessed by countless parents over the years. Dr. Joel Haber's community approach to resolving this problem has been lauded by school administrators, teachers and the children themselves! He empowers the children to learn and employ skills/tools that they can feel confident using when difficult situations compromise their safety at school. Four Winds Hospital welcomed Dr. Haber to its conference center to present a Grand Rounds on the "ABC's of Bullying" on two occasions to a standing-room-only audience of 250 clinicians, educators and parents. Thank you to Dr. Haber for developing a caring and compassionate approach to this chronic issue which can be applied in school settings, summer camps, reinforced at home and applied in alternate learning environments.
-Fran Walsh
Executive Director
The Four Winds Foundation
Have Dr. Haber
Speak to Your Group

Dr. Joel Haber is not just a clinical psychologist. Heís a dynamic speaker who connects, empathizes, engages and makes a real difference in the lives of those who have been and are being bullied. more Ľ
Anti-Bullying Programs
Anti-Bullying Programs for Parents & Children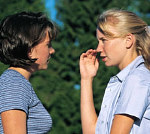 If your child is being bullied, youíve come to the right place. Dr. Joel Haber has been helping parents and kids overcome the pain and suffering of bullying for over 20 years. He knows how scary bullying can be. He knows how overwhelming, upsetting, angering and frustrating it is to see your child tormented by other kids. You and your child donít have to keep fighting this battle on your own!

A parent whose childis being bullied desperately wants to know how to help their child feel emotionally and physically safe again, A parent needs a coach to help them find the right words to comfort their child, approach the school in a way that will yield results and not escalate the situation.
Thatís what my Respect You Parents and Kid Program: RAP with kids is all about. RAP stands for: Recognize, Act and Preserve. These steps will help you gain control of a bully situation. I can help you in a one-on-one session that will help you and your child develop and execute a plan that puts you back in control. You donít have to panic anymore.
As a parent, you need to manage the way you deal with this from the beginning. Thatís what "bully coaching" is all about.
What is Parent Coaching?
Parent Coaching may sound different or unusual but itís really not. Itís a leading-edge, proven method for ending the pain and suffering of bullying for parents and their children.
My programs offer:
Individual, one-on-one coaching and training
Action oriented partnership
Face-to-face video teleconferencing via Skype, iChat or similar technologies
Phone coaching sessions
30 or 45 minute sessions
Email interfacing
Direct office visits if requested
Cost for Parent Coaching varies depending on the program selected. Please contact us directly to find out how the Bully Coach can customize an anti-bullying program for you, your child, and the rest of your family.
Personalized Consultation Services for Parents/Families:
There are times when specific coaching sessions are not enough to resolve more complicated issues. Dr. Haber is available to work with you and/or family based on the needs of your own situation. His parent coaching and anti-bully expertise has a long and distinguished record in overcoming difficult family dynamics or specific problem situations you may be experiencing. This may involve phone consultations or face to face meetings.
Please contact Dr. Haber directly for discussions about your particular situation and the crisis facing your family