More Anti-Bullying Programs
Camp Resources
by Dr. Haber on ACAcamps.org
Bullying Prevention: Are You Up to Speed?
A Cyberbullying Protection Plan
Excellence in Staff Training to Reduce Bullying
Cyberbullying: A "Virtual" Camp Nightmare?
Testimonials
"Dr. Haber was knowledgeable, enthusiastic, involved. He received our top ratings on all scales!"
-Director, Day Camp
"We have made great strides . . . the kids are appreciating the secure environment."
-Director, Sports Camp
"It was great! At the end of the program my campers had their arms around each other, with an enthusiasm and excitement that underscored that something meaningful had occurred."
-Director, Overnight Camp
"The role playing really helped me get into my campers' mindsets and feel what they feel. It's a terrific program!"
-Counselor
Be sure to check out our Bully Coach DVDs for Camp Staff
Anti-Bullying Programs
Anti-Bullying Programs for Camps
Sports Camps, Specialty Camps and Teen Programs Too!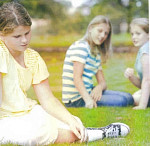 Dr. Joel Haber, The Bully Coach™, is the American Camp Association's (ACA) official bullying consultant. He helped set the anticipated standard for anti-bullying prevention for all accredited summer camps that will take effect within ACA in 2012. He is a featured national speaker in the camping world, and has provided the web-based material on bullying for the ACA website. He is an ACA's e-Institute expert on bullying, providing course material for Camp Staff and Leadership teams around the country, ensuring every camper feels safe and supported each summer.

Dr. Haber also provides video and educational material for Expert Online Training on the topics of Relational Aggression, Cyberbullying and Sportsmanship. Click here to see what Expert Online Training is all about.
As an additional resource, camps can purchase training DVD's by Dr. Haber, published by Healthy Learning that can be found on this website covering many bullying topics. Please contact me if you have questions about these products.





Each summer, Joel travels to camps and personally trains up to 2000 camp
staff and leadership teams to reduce bullying issues.
From before the summer starts, through final farewells—and even in the off-season!—The Respect U Camp Program helps camp personnel identify potential bullies in their staff or campers and "hot-spots" where bullying occurs. His program provides the specific tools needed to reduce bullying including: bunk pranks, hurtful gossip and relational aggression, sports bullying and on and off-season cyber-bullying.
Results of his research on staff bullying have revealed how staff behavior plays an important role in creating a camp bullying culture. You can read more about this research in Camping Magazine as well as a series of articles on bullying used by camps for staff training each summer.
A Real-World Approach
The staff training is engaging, entertaining and geared toward the real world. Training exercises, discussions and role plays are all based on true incidents—things that staff can relate to, including:
Hidden bullying in your camp
Social Laddering and why bullying occurs
The kid who "doesn't quite fit in"
Popular bullies within campers and staff
Differences between boy bullying and girl bullying
Bullying of counselors by kids—and kids by counselors
Sports bullying
Providing kids with the skills they need to fend off bullying
Turning the "helpless" bystander into an Upstander
How to screen staff to avoid bullying issues
On and Off-season cyber-bullying
Increasing camper loyalty
A Proven-Effective Solution Just For Summer
The Respect U Camp Program is designed specifically for your summer camp and is targeted to resident camps, day camps, sports camps, specialty camps and teen program directors and staff.
The goal is to create a summer environment that is virtually bully-proof where:
Leadership team, counselors and camp staff are well-trained to identify all forms of bullying and know what to do when they see it.
Kids feel comfortable reporting bullying behavior in confidential ways
Campers and staff can safety intervene to help targets
Learn successful strategies to modify the bullies' behavior
Directors are well-equipped to handle parent concerns and repeated bullying behavior
Children and staff are treated with respect, feel supported and have fun!
I can train your team between the summer seasons, or meet with leadership teams to ensure that you are "Bully-proofed" before the summer begins.

FOR MORE COMPLETE PROGRAM DETAILS AND OPTIONS CLICK HERE
Personalized
Consultation Services for Parents/Families:
There are times when specific coaching sessions are not enough to resolve more complicated issues. Dr. Haber is available to work with you and/or family based on the needs of your own situation. His parent coaching and anti-bully expertise has a long and distinguished record in overcoming difficult family dynamics or specific problem situations you may be experiencing. This may involve phone consultations or face to face meetings.