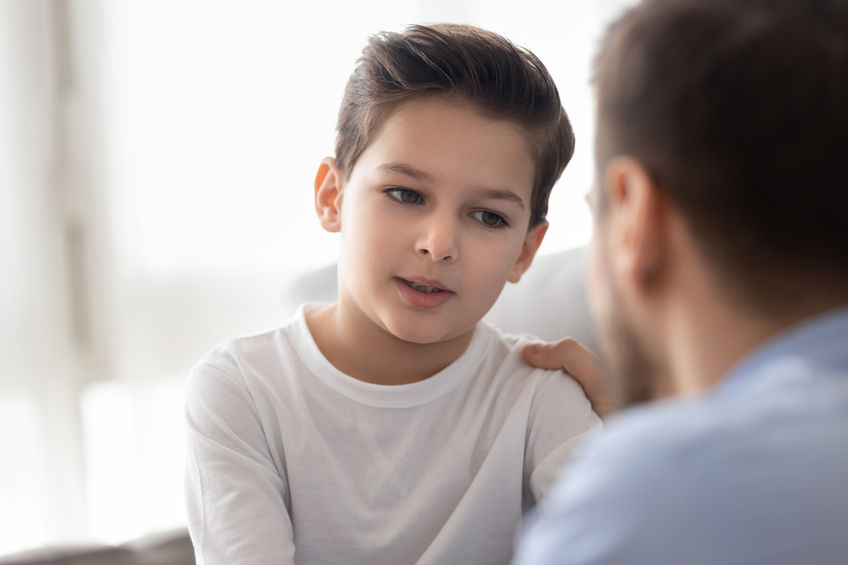 Copyright: fizkes/123RF Stock Photo
A parent's natural instinct is to deny, deny, deny anything the tormentors say, and teach their kids that they're gorgeous, brilliant, talented, perfect little people. And when the children are very young, they buy into it—they agree that they're perfect. Soon, though, the other kids knock them off their perfect pegs and begin pointing out all their flaws. Sometimes the kids are just being obnoxious and making up things because your child is giving them the emotional reaction they want, and sometimes there's some truth to what they say. 
Maybe your kid is teased for being a nerd or having a big nose. And you know what? Maybe your kid is a little nerdy and does have a big nose. Rather than pretending that the opposite is true and acting horrified that these cruel children are spreading such terrible lies, use this as an opportunity to say, "So what?" Tell them about famous people who were once called geeks and nerds when they were young—people like Jennifer Garner and Sarah Michelle Gellar. Point out the child's more attractive features.
A child who is taught to believe that she's perfect is going to have a harder time accepting it when that bubble gets burst than a child who has a more realistic self-image. Make sure your kids understand that everyone has little things about themselves that they wish were different, or that they don't like very much, but that usually, they realize that those things aren't very important. Sometimes they even learn to like the things that make them feel different and weird when they're young. This is what resilience is all about.
Denying a quality that your child actually does have makes that quality seem really bad. "Oh, my goodness! You're not a nerd! Those kids are crazy!" Now the kid knows that you think nerds are bad, and that it's an insult to be called that. But is it really so bad to have a little "nerd pride"? It may be best to teach your child how to be a little self-deprecating and make fun of himself, which takes the sting out of those words when other people say them.
Do You Tease at Home?
Wait, before you look guilty: That's a good thing! Playful teasing is a healthy, positive thing. It teaches your kids not to take themselves too seriously, and not to get terribly offended by every little comment. I can remember at our own dinner table, letting my kids make fun of my imperfections in a relaxed, fun way. It really creates ease. It provides an opportunity for us to laugh with each other, which is very different than laughing at each other. Feeling safe and acknowledging imperfections allows us to develop a more realistic self-image.
You may be able to gauge how your child reacts to peer teasing by watching how he reacts when you tease. If he whines or yells or cries, you know you'll need to work on his oversensitivity. Talk to him about the difference between hurtful teasing and just playing around. Tell him that teasing can be a sign of affection and that people who really like each other can joke with each other without trying to be hurtful. Then use an example, and make fun of yourself. Show your child that you are okay being imperfect.
But be aware of how others in the family react, too—does Mom pout every time Dad makes a joke about her bad cooking? Does big sister get upset when Mom makes a dig about how long she spends fixing her hair? If you're trying to teach a child not to react so strongly to teasing, make sure the other family members are role-modeling the right behavior. It's a positive atmosphere when family members can tease each other back and forth without any real hurt or resentment.