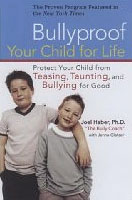 Amazon.com
Barnes & Noble
Dr. Joel Haber : Nationally Recognized Anti-Bullying Speaker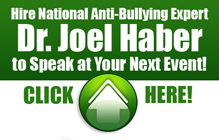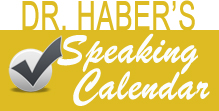 Testimonials
"I cannot thank you enough for coming down here and speaking to the parents of our school. You are amazing and very talented speaker. We loved your talk and learned so very much. Thank you again!"
-Stacey M.
Administrator
"As always, it is not only the relevant and important information that you share, but the way you do it. Your style makes parents feel comfortable and they feel your empathy."
-Patty W.
Administrator
"We greatly appreciated your valuable insights. Our schools will likely be safer and happier if we can take your advice and learn from your examples. Thanks you."
-Valerie A.,
Parent Teacher Council
Anti-Bullying Speaker, Dr. Joel Haber, Speaks On A Wide Range of Bullying and Parenting Topics Including:
Bully Prevention for Schools

Bully Prevention for Your Camp

Bullyproofing Skills for your Children

Bully Prevention for Sports

Bully Prevention for Business

Cyberbullying

Mobile Harassment and Sexting

Bullying and Special Needs Kids

Reducing Negative Behaviors in Classrooms

Social Cruelty Amongst Girls (Boys)

Building Confidence in Your Children

Building Resilience Skills in Young Children

And many other topics
Dr. Haber's additional services:
Dr. Haber is a clinical psychologist and a passionate, inspired anti-bullying speaker who speaking regularly for a wide variety of organizations, corporate events, government panels and psychological forums.
He connects, empathizes, engages and makes a real difference in the lives of those who have been and are being bullied. He speaks to the targets, their loved ones and those responsible for ending abusive behavior in schools, on playgrounds, down the hall and in the workplace. His presentations are compelling and effective and provide attendees with useful practical knowledge.
Recent Anti-Bullying Speaking Presentations:
Westchester Reform, Scarsdale, NY: "Bullyproof Your Child for Life"
NACCHO: Arizona Hemophilia Association, Phoenix, AZ: "Bully and Violence Prevention for our World"
Rye Neck Middle School, Mamaroneck, NY: Bullying Prevention for the faculty, students. - Parenting for Safety in 2013
Harrison, NY, Middle School Families: "Bullyproof Your Child for Life"
Foundations of Education Series: "Bullying: Helping Your Children Build Resilience" Rippowam Cisqua, Bedford, NY
The Addams Family Broadway Show :No Snap Judgments National Tour. NYC
Hilliard Youth and Family Commission "Bullying, Cyberbullying and Self- Esteem Building" Columbus Ohio
Workshop for Parent Skill Building Jacob Burns Theatre: The Bully Project: Keynote Speaker for Movie Debut. Sponsored by Facing History and Ourselves.
PTA Easton, CT: Bullying, Cyberbullying and Self-Esteem Building
ACA Tri-Sate Conference: Atlantic City, NJ
"Relational Aggression and Social Cruelty Amongst Girls (and Boys?)"
Whitby School, Greenwich, CT: Bullyproof Your Child for Life
French American School, Mamaroneck, NY: Bullying Prevention for Pre-Teens and Teens
ACA National Conference 2011, San Diego, CA. :
1. A Cyberbully Protection Plan
2. Bully Prevention for Your Camp
3. Mobile Harassment and Sexting
Past Presentations
Rye Neck, NY : Anti-Bullying Presentation to Parents
Facing History and Ourselves: Staff Training for Bully Prevention
Northern Westchester Nursery School Directors Group: Keynote on Reducing Negative Behaviors in Classrooms
Rippowam Cisqua School. NY: Bullying and Cyberbullying Presentation
Waverly School PTA, Eastchester, NY: Early Elementary and Pre-School Bullying Chappaqua, NY Cyberbullying: What You Don't Know Will Hurt You!
SEPTA Presentation, Katonah, NY: Bullying and Special Needs Kids
ACA National Conference, 2010- Denver, Colorado and Tri-State Camping Conference, and Parks and Recreation. 2010:
1. Bullying Staff or Empathetic Staff: Who will do gossiping, rumors & exclusion or be a true leader?
2. CYBERBULLYING CHALLENGES: What camps need to do for the 21st century
3. Bullyproofing Strategies that work for Campers: Teach them skills for a lifetime!
4. Building Confidence with Tool Kits for Kids: Keynote Presentation
Rye Community "Heard In Rye" series: Bullying: How to Protect Your Children; Rye, NY
Bedford Community Presentation: Bullyproofing Skills for your Children:
Kol Ami Faculty and Parents: Building Resilience Skills in Young Children
Maplewood/ S. Orange, NJ School District: Building Resilient Children
WFHA Faculty and Parents: Building Skills to Bullyproof Your Children
Family U Katonah, NY: Building Skills to Bullyproof Your Child
Pound Ridge Elementary School, NY: Bullyproofing Your School Community
Wonderplay National Conference: Building Resilience in Children: Dealing with Aggressive Behaviors in the Classroom
Goldman Sachs
All Saints Episcopal School, Beaumont, TX
Marymount School
Berkeley Carroll School
Parent University: Somers: NY
Berkeley Carroll School
Rock Creek, Maryland PTA

The French American School, NY

Family U Education Workshop, Katonah, NY